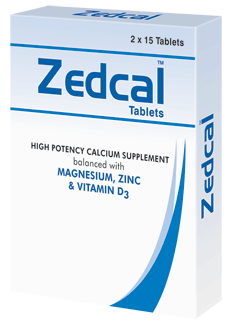 High Potency Calcium Supplement
Zedcal Tablet provides an effective formula of calcium with essential cofactors like magnesium, zinc and vitamin D3 to help maintain strong bones and teeth and the health of the heart, muscles, and nerves.
Calcium – fundamental for bone mineralization and preservation of bone mass
Magnesium – vital for calcium absorption, utilization & homeostasis
Vitamin D3 – essential for absorption of both calcium & magnesium
Zinc – essential for synthesis of bone matrix before mineralization
Each film coated tablet contains :
Calcium Carbonate B.P. 1000 mg
eqvt. to elemental Calcium 400 mg
Magnesium Hydroxide B.P. 240 mg
eqvt. to elemental Magnesium 100 mg
Zinc Sulphate Monohydrate U.S.P. 11 mg
eqvt. to elemental Zinc 4 mg
Vitamin D3 (as stabilised) 200 I.U.
Excipients q.s.