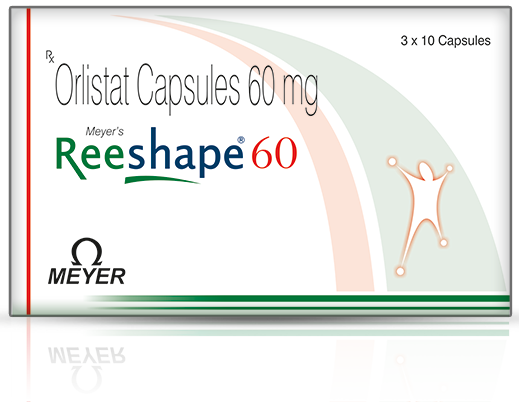 Safest option for overweight & obesity management.
Reeshape is a prescription Anti-obesity medication which helps obese & overweight people lose weight.

is a prescription Anti-obesity medication which helps obese & overweight people lose weight.
Doctors have guidelines as to when

can be used.
How does

work?
When a meal is taken, enzymes in our Digestive system, break down the food into Fat, Protein, Carbohydrates – to be used as energy. If you eat more fat or calories, body stores extra calories as body fat which results in weight gain. Enzymes in digestive system, called lipases, help digest fat.
When taken with meals,

attaches to the lipases and blocks them from
breaking down some of the fat you have eaten.

works in your digestive system and blocks about one-third of the fat in the food you eat from being digested.
The undigested fat is eliminated through your bowel movements.
Unlike other weight-loss drugs

does not act in the brain or central nervous system to suppress appetite.

is the safest option for overweight & obesity management.
————————————————————————————————–
How effective is

?

(Orlistat) produced significant weight loss along with improvements in several weight-related risk factors in mildl to moderately overweight individuals.
Orlistat acts locally and inhibits 30% absorption of fat thereby having a positive effect on weight control.
Weight loss was observed within 2 weeks of initiation of therapy.
Orlistat promotes 5% to 10% weight loss or more of their initial weight in year 1 and sustained weight loss of 5% or greater over 2 years.
Some people think orlistat (

) will 'do it all' and don't follow their diet plan and exercise schedule seriously. The desired results may not be achieved in such cases. Remember, orlistat (

) prevents only some of the fat that you eat from being absorbed (just under a third). But, if you do not keep to a healthy weight-reducing diet, and eat more fat (chocolates, cakes, etc), the extra fat that you eat will easily cancel out the effect of the orlistat (

).
——————————————————————————————————
Guidelines for using

You need to consult & follow the weight program given by your doctor.
Doctors will follow these guidelines when prescribing orlistat (

). They are
• your BMI (Body Mass Index)
        – 30 or above, or
        – 27 or above, and you have a medical condition that would benefit from losing          weight (such as diabetes or high blood pressure)
• Between the ages of 12 and 75 years.
Doctor may continue the prescription of orlistat (

) if you continue to lose weight after six months, This may be for up to 1-2 years, or longer if you have a great deal of weight to lose.
What is Reeshape?
Reeshape is a safe and effective Anti-Obesity Drug, contains Orlistat 60/120 mg.
Who are the appropriate candidates for Reeshape?
The appropriate candidates for Reeshape are patients with Diabetes, Cardio-vascular Risk like Blood Pressure, Athero-sclerosis & Osteoporosis with Obesity, PCOS due to obesity etc.
Reeshape is appropriate for weight loss in Overweight and Obese adults whose BMI falls in the range of 27-30  and above.
How does Reeshape act?
Reeshape acts locally by inhibiting a particular kind of enzyme in the digestive tract called Lipase, which is responsible for breaking down dietary fat from the food we eat. The inhibition of this enzyme drastically lowers fat storage in the body and speed up weight loss.
What are the transient side effects of Reeshape?
Most common gastro-intestinal side effects seen for short period  are oily and loose stools, oily spotting which can be minimized by restricting dietary fat of total daily calories.
How should this medicine be used for productive weight loss result?
Reeshape comes as a capsule to take by mouth. It is usually taken three times a day with each main meal that contains fat.
Each time you take Reeshape (Orlistat), your meal should contain not more than about 30% of calories from fat.
Take Reeshape during or up to 1 hour after a meal. If a meal is missed or does not have fat, you may skip your dose. Take Orlistat exactly as directed.
Do not take more or less of it or take it more often than prescribed by your doctor.
Do I need to take Reeshape if having a low fat breakfast?
Reeshape works only in the presence of dietary fat in your  body. It is recommended that Reeshape be taken with each main meal (ie 3 capsules per day) for positive weight loss results. If you are unsure of the amount of fat in your main  meal,  contact  your  doctor.
Is Reeshape FDA approved and How long Reeshape can be taken?
Yes, Reeshape is FDA approved drug.
Reeshape can be taken successfully for achieving and maintaining weight loss for up to 4 years. Reeshape is an exception to most other Anti-Obesity drugs in terms of feasibility of long term use.
What special precautions should I follow?
Before taking Orlistat,
Tell your doctor if you are allergic to Orlistat or any other drugs.

Tell your doctor what prescription and nonprescription drugs you are taking, especially anticoagulants, medications for diabetes.
Tell your doctor if you have or have ever had anorexia, gallstones, thyroid disease, diabetes, kidney problems, or if you consistently  have  malabsorption problems.
Tell your doctor if you are pregnant, plan  to become pregnant, or are breast-
feeding.
What special dietary instructions should I follow?
Follow the diet program your doctor has given you. You should evenly divide your daily intake of fat, carbohydrates, and protein over three main meals.
When you use Orlistat  you should take a daily multivitamin supplement that contains vitamins A, E, K, and beta-carotene.
Take the vitamin once a day, 2 hours before or 2 hours after taking Orlistat, or take the vitamin at bedtime.
To help you get started on reducing the fat in your diet to about 30%, read the labels on all the foods you buy. Cook with less fat. Use vegetable oil spray when cooking.
What should I do if I forget a dose?
Take the missed dose as soon as you remember it unless it is more than 1 hour since you ate a main meal. If it is longer than 1 hour since you ate a main meal, skip the missed dose and continue on your regular dosing schedule. Do not take a double dose to make up for a missed one.
What is the principle difference between Reeshape and other weight loss drugs?
Unlike other weight loss drugs, Reeshape is not an appetite suppressant. It lowers fat accumulation in the digestive systems and leads to weight loss.
What does Reeshape overdose leads to?
Although there have been no harmful effects from Reeshape overdose, but if
an overdose of the drug is taken, the patient should go for Medical advice. Reeshape  overdose  is  not  recommended.
Are Vitamins needed to be taken during Reeshape treatment?
Yes, it is preferable to be taken as Reeshape has been shown to reduce the absorption of some fat soluble vitamins and beta carotene. Also vitamin D and Beta carotene levels are low in Obese individuals.
How much do I lose weight with Reeshape therapy?
You can expect to reduce approximately 5% weight reduction as per clinical trials, in 16  weeks  clinical  treatment.
Does Reeshape interfere with commonly prescribed drugs?
Reeshape is generally safe and does not interfere with any medicines except Cyclosporine, Warfarin.
Who should not use Reeshape?
The effect of Reeshape during pregnancy has not been adequately studied, therefore not recommended for use during pregnancy and Lactation.
–  Those who are suffering from gall bladder and kidney
problems.
–  People with problems of food absorption.
What other information should I know?
Keep all appointments with your doctor. Read the patient information before starting treatment with Orlistat and each time you refill the medication.
You should also follow a program of regular physical activity, such as walking. However, before you start any new activity or exercise program, talk with your doctor or health care professional.
Do not let anyone else take your medication.