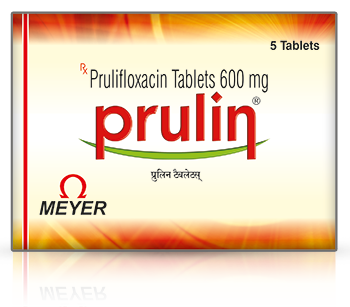 Prudent choice to overcome resistance in UTI & RTI
Prulin contains Prulifloxacin.
Prulifloxacin, the lipophilic prodrug  of ulifloxacin.. Prulifloxacin is broad spectrum flouroquinolone, that  is rapidly absorbed & hydrolysed to active compound ulifloxcin following oral administration.
Prulin is effective against both Gram positive & Gram negative pathogens including pseudomonas aeruginosa.
The bactericidal effect of Prulin is mediated through their ability to block activity of bacterial DNA gyrase enzyme.
Prulifloxacin Tablets 600 mg
Pack: 10 Tablets in one strip