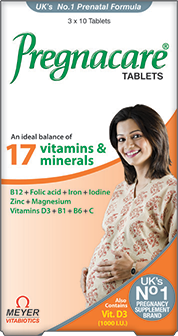 Prevents Pregnancy Complications & Low Birth Weight
Zinc + Folic Acid + Vit. D 1000 IU + Iron + Vit B6 + Vit. B12 + Magnesium + Selenium + Iodine + MMN*
Pregnacare is UK's No. 1 Pregnancy Supplement & the most popular and trusted pre-natal supplement for women who are planning for pregnancy or are already pregnant. Pregnacare is a scientifically developed formulation of 17 Essential Vitamins and Minerals, which are required to support nutritional requirements in pregnancy & are within safe levels.
Pregnacare offers:
• Zinc and Magnesium which lower the incidence of premature birth
• Folic acid, Vit. B6 & B12 which reduces the incidence of Neural tube defects by 72% and lowers homocysteine levels
• Iodine which improves motor and cognitive performance of offspring
• Vitamin D 1000 IU as recommended by ACOG*
• MMN* which help to improve birth weight
Pregnacare Benefits:
• Prevents pregnancy complications like PIH* and Pre-eclampsia
• Improves birth weight and gestational length
• Reduces Infant morbidity
• Cost Effective Therapy with 1000 IU of Vitamin D3
Pregnacare supports:
(Promoting Folic acid intake for healthy conception and pregnancy)
*MMN – Multiple Micronutrients
*ACOG – American College of Obstetricians & Gynecologists
*PIH – Pregnancy Induced Hypertension under Pregnacare.