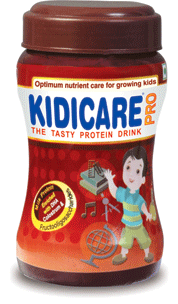 PROACTIVE Care for Growing Kids
Growing kids requires blend of essential nutrients responsible for their growth and development.
Kidicare PRO is tasty protein supplement enriched with 37 essential nutrients with Milk Protein PDCAAS* 1.
Kidicare PRO is a Gluten Free Protein Supplement which offers:-
DHA – Improves Cognitive development
Colostrum & FOS – Builds up immunity & improves mineral absorption
Lysine – Ensures age appropriate growth of kids
Vitamin D – Important for calcium homeostasis and bone formation
and other nutrients.
Kidicare PRO is formulated with excellent natural chocolate and vanilla flavor.
Pack: – 200gm
*PDCAAS – Protein Digestibility Corrected Amino Acid Score
*DHA – Docasahexaenoic acid