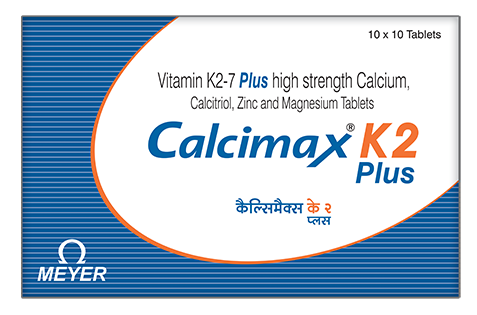 In Osteoporosis & Related Fractures
Calcimax K2 Plus provides a synergistic combination of Calcium, Vitamin K2, Calcitriol (Active form of Vitamin D), Zinc & Magnesium.
Calcium is important for everyone
Ensuring an adequate intake of calcium is vital for men and women of all ages, as evidence suggests that healthy practices early in life, including the adequate consumption of calcium and trace elements, contribute to normal bone health and optimal bone mineralization. Peak bone mass, obtained during childhood and adolescent growth is known to be of major importance in maintaining bones later in life.
Calcium is vital for older women
Both sexes lose bone mass during their lifetime but after the menopause women usually lose bone mass much faster than men.
Postmenopausal women have an increased risk of bone loss for three reasons:
Bone mineral content tends to be lower in women than in men
Dietary calcium intake may decrease with age
The rate of bone loss accelerates at menopause
Calcium intake guidelines
The National Osteoporosis Society (NOS) recommends the following guidelines for calcium intake
Age
Suggested daily calcium intake
0-12 months (non-breast-fed infants only)
525 mg
1-3 years
350 mg
4-6 years
450 mg
7-10 years
550 mg
11-18 years boys/girls
1000 / 800 mg
19+ years
700 mg
Pregnant woman
700 mg
Breastfeeding woman
700 + 550 mg
Based on the Department of Health Committee on the Medical Aspects of Food and Nutrition policy 1998.