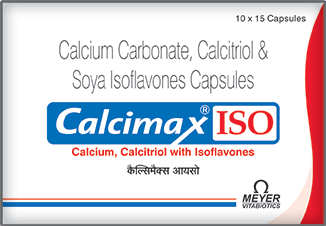 The Trusted Bone Strength Enhancer
Calcium Carbonate + Calcitriol + 100mg Isoflavones Capsules.
Calcimax ISO is specially designed for Treatment of Post-Menopausal Osteoporosis. Calcimax ISO is most trusted trio with Calcium, Calcitriol and 100 mg Soya Isoflavones for treatment of Post Menopausal Osteoporosis.
Regular Intake of Calcimax ISO offers cardiovascular & metabolic benefits, improves bone mass & reduces bone loss, minimizes fracture risk, improves insulin sensitivity and reduces Post menopausal risk factors.